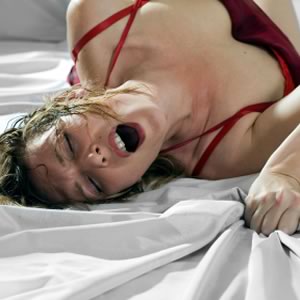 Ah, the elusive female orgasm. From the Greek word orgasmos, derived from the same word as the English organ, meaning for an organ to swell with lust. We all want one (or want our partner to experience one).
Magazines, books, and movies spend so much time discussing how and when and where to achieve these wonderful orgasms women are capable of. But how many kinds of female orgasms are there? The literature I've read about female orgasms all agrees that women can have more than one kind of orgasm, but they don't agree about how many are possible.
So, how many are possible?


Three Orgasms: this theory seems to be the main one out there; it is the one that comes up most on Google searches and seems to be pretty popular in books such as Female Ejaculation and the G-Spot. According to this theory, women can have three types of orgasms: clitoral, vaginal/g-spot, and blended (both at the same time). My problem with this theory is that it leaves out a cervical orgasm, which I have experienced and read about other women on the net experiencing, and it is quite different from a G-spot one.


Four Orgasms: This theory of orgasms classifies them by where they occur on your body: clitoral, g-spot, vaginal, and anal. I like this theory because it doesn't lump g-spot and vaginal together, since they can be different.


Seven Orgasms: Author Betty Dodson has a theory that there are seven types of orgasms, based on the manner of achieving them. The seven orgasm types are: pressure, tension, relaxation, g-spot, multiple, combination, and fantasy. So if you press your legs together, that's pressure, and if you fantasize your way to orgasm with no physical contact, that's fantasy. The thing I don't like about this one is it gets so broad. Is "multiple" just another name for "tension + g-spot"? What about women who have orgasms from having their nipples and breasts touched?
I'm not sure which theory is right, but my guess is there is no right or wrong number of orgasms. Some women may only have one kind, or prefer the same kind of orgasm every time. Others may have three ways, or four, or seven, or ten. I think it's wrong for some female author who's only experienced three kinds of orgasms to write a book telling the rest of us we're wrong when we claim to have experienced four.